INFORMATION
View current system status.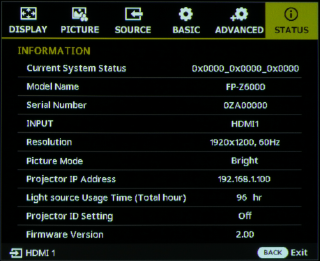 Option
Description
Current System Status
Current system status.
Model Name
The projector model name.
Serial Number
The projector serial number.
INPUT
The current input mode (

a

INPUT).
Resolution
The output resolution.
Picture Mode
The current picture mode (

a

Picture Mode).
Light Output Setting
The current output level for the projector light source (

a

Light Output Setting).
Light Source Usage Total Time
The length of time the projector light source has been in use.
Projector ID Setting
The projector ID (

a

Choosing IDs).
Firmware Version
The version number of the current projector firmware.